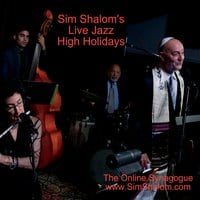 Sim Shalom's new CD, fuses the raw emotion of jazz and the traditional liturgy of ancient Jewish High Holiday prayer and music. Sim Shalom, the world's first purely virtual synagogue, brings its inventive programming to the High Holidays each year with jazzed up Rosh Hashanah and Yom Kippur services. During the High Holidays, members of the Jewish community reflect upon life and the year that has passed. They pray that the year ahead will bring blessings and peace. Jazz is thoughtful music, improvisation within a structured form that can be filled with many emotions. Playing jazz in many ways is a metaphor for experiencing life. The new CD reflects the juxtaposition of emotions where jazz and the High Holidays intertwine.
The music is the vision of Rabbi Steven Blane, Sim Shalom's founder, a seasoned Cantor and jazz musician to create an engaging unparalleled worship experience. In the past several years, services were performed at Small's Jazz Club, and Zebs Sound and Light Club in New York City to full capacity. The 2015 Jazz High Holidays Services will be at the iconic Bitter End in NYC.
CD tracks include jazz versions of the Hatzi Kaddish. In Jewish liturgy, different versions of the Kaddish are used as "separators" between portions of the services. Melodies that accompany the Kaddish change depending upon when it is sung – Weekdays, Shabbat, Festivals, or High Holidays. Performed here is the Hatzi (Half) Kaddish specific for the High Holidays. The Aleynu is a Missinai melody used for the High Holidays, "Mi-Sinai," meaning literally "from Sinai." And rather than fearing God's wrath, our arrangement of B'rosh Hashana celebrates God's Passion. Other tracks include jazz versions of Hine Ma Tov, Kol Nidre, Barchu and Sh'ma, Halleluyah, Amidah, M'chalkayl, Untanef Tokef, B'rosh Hashana, Ochilah L'el, Sh'ma Koleynu, the Shoard Service, Ashamnu, Avinu Malkeynu, Hayom.
The CD is a compilation of music conducted at the live 2014 services and recorded in the studio with world renowned jazz guitarist Saul Rubin. Featured are Carol Sudhalter on sax and flute, Tai Ronen on Bass, Jack Glottman on piano, Frank Levitano on drums, and Itai Kris on flute. Rabbi Blane will be joined again at the September 2015 High Holiday Service by Sudhalter, Ronen, Glottman and Levitano. A downloadable version is available here.