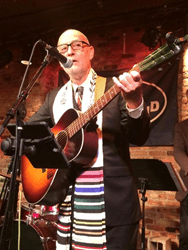 About Rabbi Steven Blane
Rabbi Steven Blane is founder and Spiritual Leader of Congregation Sim Shalom, one of the world's first International ONLINE communities of Liberal Jews.
He is also the founder and Dean of JSLI- The Jewish Spiritual Leader's Institute, an online Rabbinical and Cantorial School.
He writes, "my calling as a Rabbi is deeply rooted in the progression of every aspect of my life, in every career choice I have ever made and in every job I have ever held. Each of life's episodes has taught me something absolutely necessary to be the Rabbi that I am. And even though as a young man, I never even imagined becoming a Rabbi, perhaps it has never really been within my power to choose."
Rabbi Blane began his spiritual journey as a child. He attended the (Orthodox) Yeshiva of Hudson County grammar school and Lubavitch staffed Rogosin Yeshiva High School. In college, he majored in Voice and obtained a B.A. in Music Education from Jersey City University. Following college, he performed as a singer/actor off and on Broadway, most notably, in the show "STRIDER" in 1978-79. He was a film extra (look for him in "The Chosen" but don't blink) and he wrote an Off-Off-Broadway Musical, which he produced in 1981.In 1986, he co-founded Blane & DeRosa Productions, an audiobook and children's audio production company. They produced hundreds of audio recordings for major publishers.
More than two decades ago, he began studying to become a Cantor with his mentor Hazzan Noah Schall. He then began his professional Cantorial career by leading High Holiday services at Conservative Temples Beth Israel in Biloxi, Mississippi in 1991 and Shaarey Zedek in Buffalo, N.Y. in 1992. He served for four years as Cantor (1994-98) at Conservative First Hebrew Congregation in Peekskill, New York, and one year (1996) as Cantor at Reform Temple Beth Haverim in Mahwah, N.J.
During his final year at First Hebrew Congregation, he served as Spiritual Leader. He then became Cantor at Congregation Beth Israel in Bergenfield, N.J. from 1999-2006.
From 2001-2009, he was a member of the Cantor's Assembly- a collection of the finest Hazzanim in the world. He resigned from the CA in 2009 when he was offered the option of resignation or expulsion by the Cantor's Assembly when he began officiating at Interfaith Weddings.
He was ordained as Rabbi in June 2001 at Rabbinical Seminary International after completing a course of study with Rabbi Joseph Gelberman in New York City.
Prior to founding Sim Shalom, he served as Rabbi and Spiritual Leader of Congregation Beth Tikvah-New Milford Jewish Center from 2006-2009.
While he is rooted in Jewish tradition, he has always been comfortable among all of the movements and has led services in Lubavitch, Orthodox, Conservative and Reform communities. As Rabbi and Cantor, his commitment has always been to nurture, heal, and bring joy to the community. His vision has always been one of universal kindness, peace and inclusiveness.
While he was serving the New Milford community, it became clear that his vision for the Rabbinate was much larger than he could realize in the Conservative or any particular movement. "I became very sad. Yes, I was doing well- I was paid fairly and I loved being the Rabbi. But I was surely not growing- and neither was the community."
And so he left that traditional pulpit to journey on own. Echoing the experience of my mentor Rabbi Joseph Gelberman (of Blessed Memory), he chose a new path.
In 2010, he founded Congregation Sim Shalom, an Online Jewish Universalist Community that meets every weeknight at 7PM. The Sim Shalom community welcomes everyone to participate in all rituals and has online members all over the world who join in joyful, uplifting worship.
Rabbi Blane has envisioned and founded a new Jewish Movement, Jewish Universalism.
For more information on Rabbi Blane, visit Rabbi.Net.