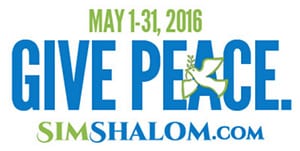 Throughout the month of May, you have a special opportunity to "give peace" and support the important work of Sim Shalom, the Online Synagogue.
Each week throughout the year, Sim Shalom offers dynamic, interactive weeknight (Ma'ariv) and Friday night (Kabbalat Shabbat) services that connect thousands of Jews around the world with a unifying message of hope and peace.
Taking its name from the translated meaning of "Sim Shalom," Give Peace is a theme that resonates in our local communities, in our homes and within ourselves as individuals. All of us seek peace at many different levels; Give Peace seeks to unite Jews globally in a focused time of reflection and solidarity.
Thank you for your tax deductible contribution that enables this work to continue.

PLEDGE LEVEL: LEAH . . . $18
Free Gift: Receive a premium Sim Shalom decal for vehicle, home or office.
PLEDGE LEVEL: RACHEL . . . $54
Free Gifts: Receive a lovely embroidered Sim Shalom kippah and decal.
PLEDGE LEVEL: REBECCA . . . $108
Free Gifts: Receive a set of 8 limited edition inspirational cards + the Sim Shalom kippah and decal.
PLEDGE LEVEL: SARAH . . . $216
Free Gifts: Receive a fabulous Sim Shalom tote bag with all of the other items included